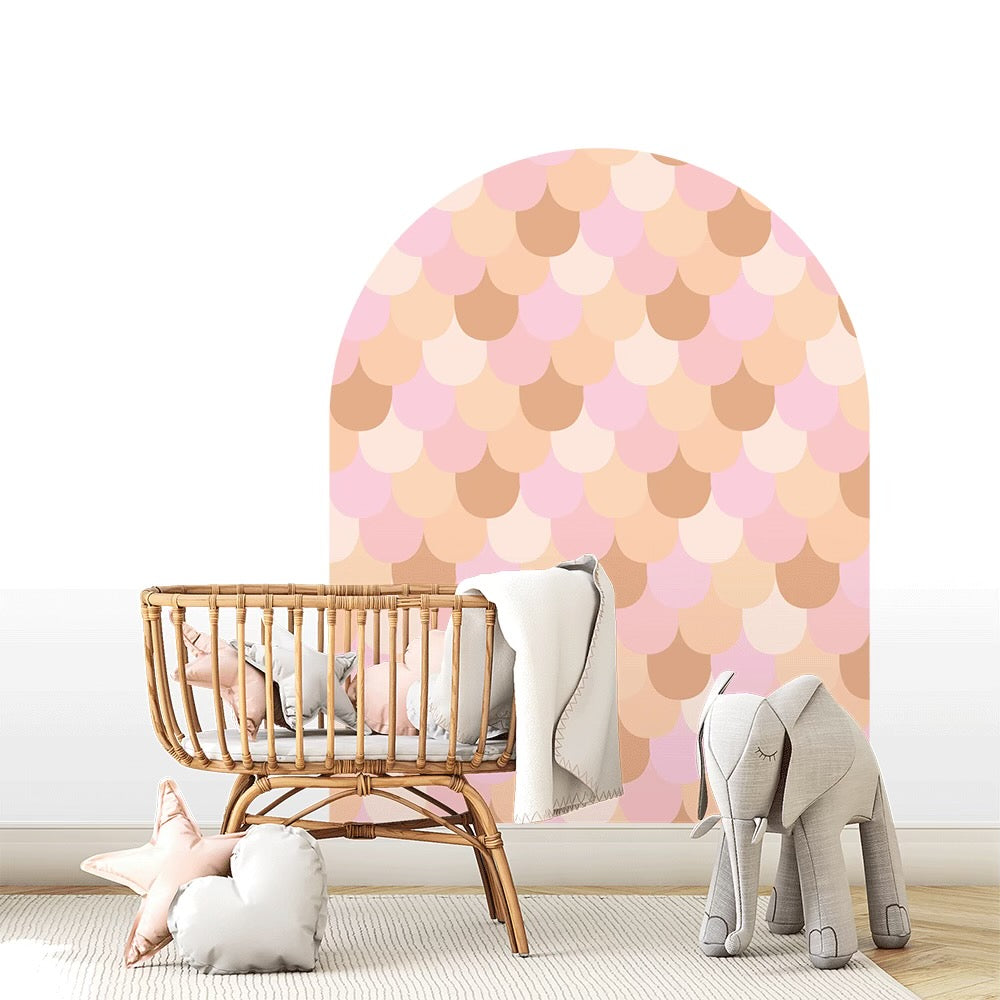 Introducing our new removable and reusable wallpaper arches! 
No more need for the messy painting of arches when you can simply pop on a removable one! For that super trendy look! 
Say hello to Mermaid Scales! Where fishies swim and dolphins play. If you look really hard you'll spot a magical mermaid or two! 
Created by Shannon at Isla Dream, and brought to life by Elisa at Blond Noir. Printed on our premium removable & reusable wall fabric. The perfect design to create an enchanted mermaid wonderland!
Our Single arches come in the following sizes: 
- Standard drop (Two pieces): 2m high x 1m wide 
- Luxe drop (Single piece): 2m high x 1m wide 
- Standard drop (Two pieces): 1.5m high x 1.2m wide 
- Luxe drop (Single piece): 1.5m high x 1.2m wide 
- 73cm high x 60cm wide (Single piece)
 Luxe width vs. standard width:
Benefits of luxe width (up to 120cm):
- The widest drops in Australia.
- Loved by our professional installers @thistlewallpapering
- Less visible joins meaning a luxe finish: luxe width is the BOMB DIGGITY of wallpaper - less joins/seams = better finish/ end result!!
⁃ Less panels to line up meaning a quicker install. There will only be 3 panels on a standard wall - that's only 2 joins!
⁃ Printed on opaque PhotoTex!!
Benefits of standard width (up to 62cm):
⁃ Cheaper to purchase!
⁃ Cheaper shipping rates for our international customers!
⁃ Able to be installed by one person. There will be 6 panels to install on a standard sized wall - that's 5 joins (even with this product, we wanted to give you the minimum amount of joins possible)
⁃ Printed on opaque PhotoTex!!
We have 14 colour ways available! Please view the gallery above for all of the colour ways available.
Please keep in mind that not all screens are created equal, so the colour you see on your screen, may vary slightly from the final printed product.
We bring you the kindest removable fabric wall decals & wallpaper on the market! 
Made from the highly trusted removable fabric that is - PhotoTex. 
"PhotoTex is the original peel and stick, polyester fabric, adhesive material that can be installed on virtually any flat surface (indoor and out) and then removed and reused many times over leaving no adhesive residue.

Used for numerous applications PhotoTex does not weaken or strengthen over time, can withstand all weather conditions, and it will not shrink or curl like other material. PhotoTex won't rip or wrinkle and can be pulled apart if it folds over during installation. PhotoTex material is US patented and non-toxic."
Our decals & wallpaper are made on premium Opaque PhotoTex fabric so that you can use them on coloured walls and easily overlap without anything that's underneath showing through. Our decals are also precision cut on a premium grade commercial machine, leaving them completely borderless.
Our wallpaper partners lovingly hand make every piece in Victoria, Australia.
PhotoTex is the number one trusted and truly removable fabric wall media on the market. If your wall art isn't on PhotoTex, well, its not on PhotoTex!
To get the best from your wallpaper, its important to fully read your 'Information and Care Sheet' provided with your order before use. 
PhotoTex is not recommended for use on textured surfaces, paints containing teflon, paint without a base layer of quality primer or paint that is flaking or in need of repair.
If you are unsure which pieces  are the right fit for you, simply order one of our sample packs to try them out first! 
How to install your wallpaper:

1. Prep the wall. 
2. Peel the fabric from its backing sheet. 
3. Stick to the wall and smooth. 
4. Line up the seam with a 1cm overlap to the next panel & repeat. 
5. To remove simply peel back slowly.
It's just like a big sticker! If you make a mistake you simply peel back and start again. If the wallpaper accidentally sticks to itself during installation you simply pull it apart and continue on as normal.
Super easy to DIY with two people!