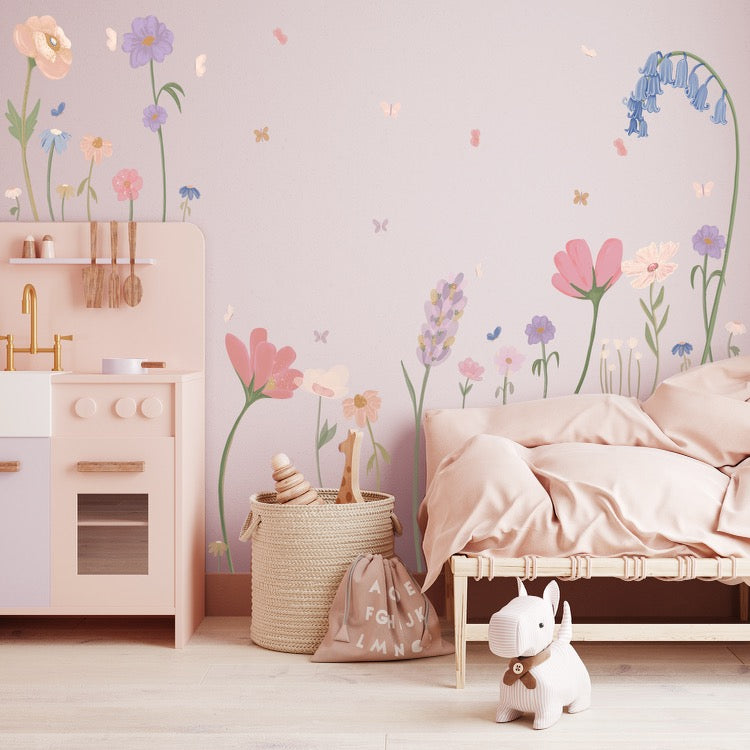 Welcome to our Garden Party! Where flowers bloom and butterflies sing on a sunny spring afternoon!  
These wall decals were created to make your little ones room feel the fresh, warm vibe of a blooming wildflower garden. They are made in all the glorious colours of a wildflower rainbow! 
The Garden Party Grande Set is made up of: 
30 Floral elements ranging form 95 cm to 10 cm
16 butterfly elements ranging form 8 cm to 3 cm
The Garden Party Midi  Set is made up of: 
18 Floral elements ranging form 58 cm to 13 cm
10 butterfly elements ranging form 8 cm to 3 cm
Flower Selection:
The Garden Party wall decals are made in all the glorious colours of a wildflower rainbow! 
Please note that not all screens are created equally and therefore there may be some variance in colour between your screen and the final printed product.
MEDIA
We bring you the kindest removable fabric wall decals & wallpaper on the market! 
Made from the highly trusted removable fabric that is - PhotoTex. 
"PhotoTex is the original peel and stick, polyester fabric, adhesive material that can be installed on virtually any flat surface (indoor and out) and then removed and reused many times over leaving no adhesive residue.

Used for numerous applications PhotoTex does not weaken or strengthen over time, can withstand all weather conditions, and it will not shrink or curl like other material. PhotoTex won't rip or wrinkle and can be pulled apart if it folds over during installation. PhotoTex material is US patented and non-toxic."
Our decals & wallpaper are made on premium Opaque PhotoTex fabric so that you can use them on coloured walls and easily overlap without anything that's underneath showing through. Our decals are also precision cut on a premium grade commercial machine, leaving them completely borderless.
PhotoTex is the number one trusted and truly removable fabric wall media on the market. If your wall art isn't on PhotoTex, well, its not on PhotoTex!
To get the best from your decals, its important to fully read your 'Information and Care Sheet' provided with your decals before use. 
PhotoTex is not recommended for use on textured surfaces, paints containing teflon, paint without a base layer of quality primer or paint that is flaking or in need of repair.