Grace the Butterfly Fairy Flying Wall Decals - A3
Isla Dream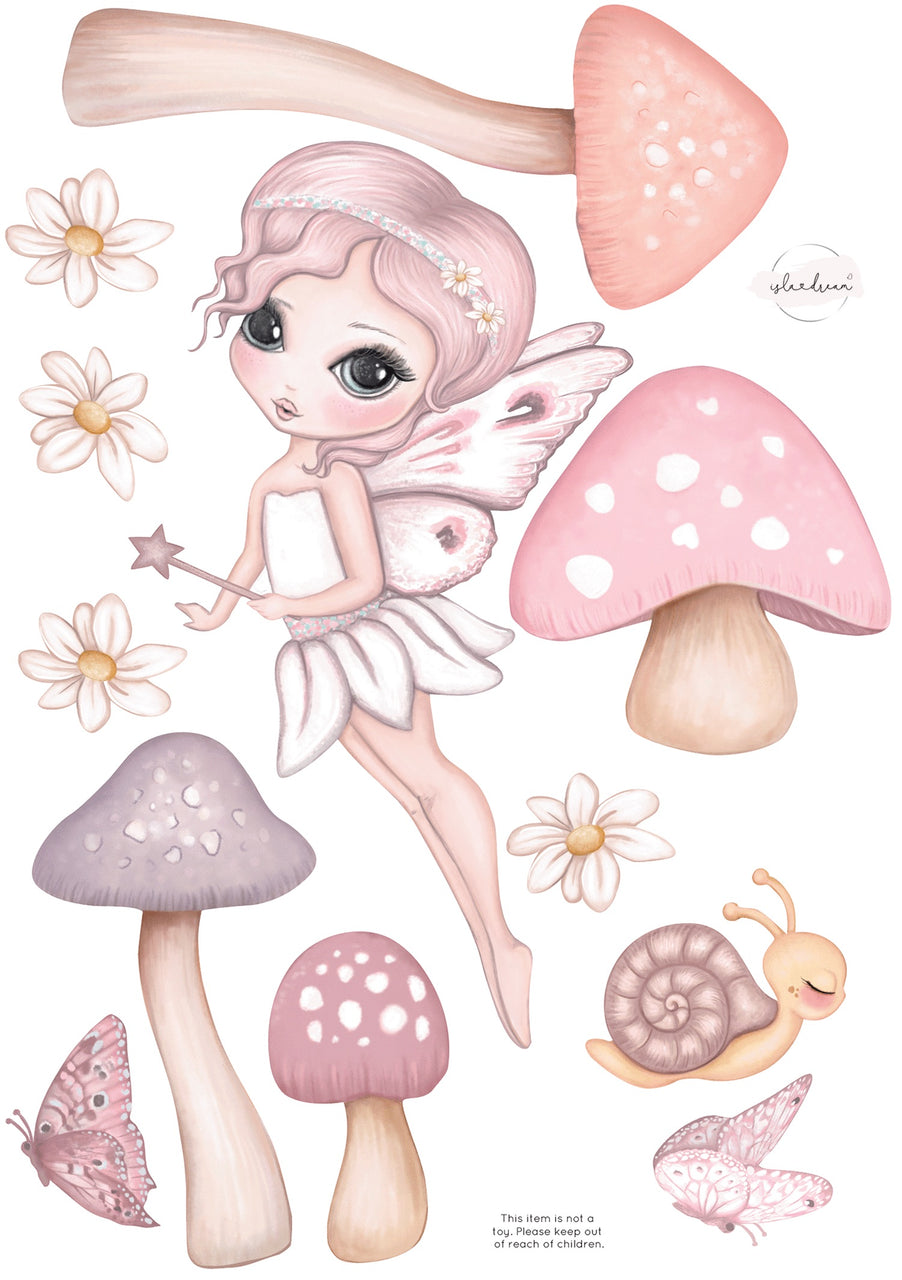 Looking for whimsical fairy wall art for children?  Here at Isla Dream we have something special for all the little ladies in your life. Our collection of removable wall decals are hand drawn with love to delight and excite and let little imaginations grow. Our luxe peel and stick wall decals use state of the art technology, do not damage walls, are non-toxic, and can be reused over and over on almost any surface, making them ideal for play areas, hospitals, schools, bedrooms and nurseries.     
One of our long-time favourite characters, Miss Grace- our delicate little butterfly fairy has had a makeover and is now available in TWO sweet poses!
Bonus tip: 'Grace flying' is the perfect match to 'Grace's garden' wall decals and used together create quite a magical scene! These decals were designed to bring comfort and joy to your children's bedrooms and inspire little imaginations. 🧚‍♀️ Go ahead and create your child a bedroom they will remember for a lifetime!
Your purchase includes one A3 sheet including 1 flying fairy, 4 toadstools, 4 baby daisies and 1 snail plus an instruction sheet.
Our decals are the kindest removable fabric wall decals on the market. Made from high quality borderless, block-out fabric and a unique low-tack glue technology, they leave no sticky residue on 99% of surfaces and won't set on your walls over time. You can use them on virtually any smooth, flat surface (inside and out). They can be applied, removed and reused many times over. And won't tear or crease and if the glue side is accidentally scrunched up it can simply be pulled apart with no damage to the decal.
Warning: Isla Dream Prints decals are designed for decoration only and are not a toy. Please keep them out of reach of children. Your decals should never be placed within a child's reach or near where they sleep to avoid a possible choking hazard.
Features:
The most trustworthy removable fabric wall decals available. Made with high quality borderless, block-out fabric, they are strong and long-lasting, but ever so gentle on your surfaces Ideal for creating the whimsical spaces for your little one, just like you wish you had as a child  
Exquisitely hand-drawn with heart by Australian artist Shannon Berg. Perfect for children who deserve beautiful spaces to encourage play, inspire imaginations and learning
Removable: our decals are made using a unique low tack glue technology so they don't leave a sticky residue on 99% of surfaces. Ideal for rental houses, party decoration, schools, bedrooms, nurseries and pre-schools
Reusable: adaptable to your family needs. Our decals grow with your beautiful family: move them from room to room or house to house
Non-toxic: while our decals are not toys and we recommend supervised play, you can rest assured all materials are non-toxic and won't harm your little one
Strong and very difficult to damage: if they get scrunched up, simply unravel them and reapply
Suitable for most smooth, flat surfaces: glass, metal, doors, and most walls, inside and out. Create magical places and watch the huge smiles on little faces
Australian made and owned. Thank you for supporting a small Australian business
Details:      
Free delivery within Australia for all orders over $40
International delivery available
Your print is delivered in A-grade Isla Dream print tubes, rolled and wrapped with tissue paper, ready for gifting
Please note: our Blond Noir decals may be delivered in separate packaging
Afterpay available
Watermark is not displayed on purchased decals
For maximum benefit, the sticky side of the decal must be clean
Please note the colours may vary slightly from those shown on the screen
For optimal use, please read the instruction sheet included with your decals
FAQs:      
How long will it take to receive my order? Please allow five days for dispatch. Within Australia, allow 5-10 days for delivery. Overseas orders approximately 7 – 14 days. If your order is urgent, please let us know.
Who will deliver my order? We use Australia Post and all orders are tracked. You'll receive an email confirming your order and another with the tracking code once dispatched (Don't forget to check your spam folder).
I'm renting. Are you wall decals safe? Yes. Our fabric wall decals use a unique low-tack glue technology that leaves no sticky residue on 99% of surfaces. They won't set on your walls over time.
Can I re-use them if we move house? Yes. Our decals are completely removable and reusable. They can be applied, removed and reused many times over. They won't tear or crease and if the glue side is accidentally scrunched up— simply pull it apart with no damage to the decal.
What sizes are available?  Isla Dream decals come in standard Australian sizes: A4, A3, A2 and 50cm x 90cm poster size. The size of each piece is listed in the individual listing
Create a magical space for your little one and let their imagination thrive and creativity flourish. Perfect for play areas, nurseries, bedrooms, daycare centres, schools, birthday parties and other celebrations. Buy yours now.