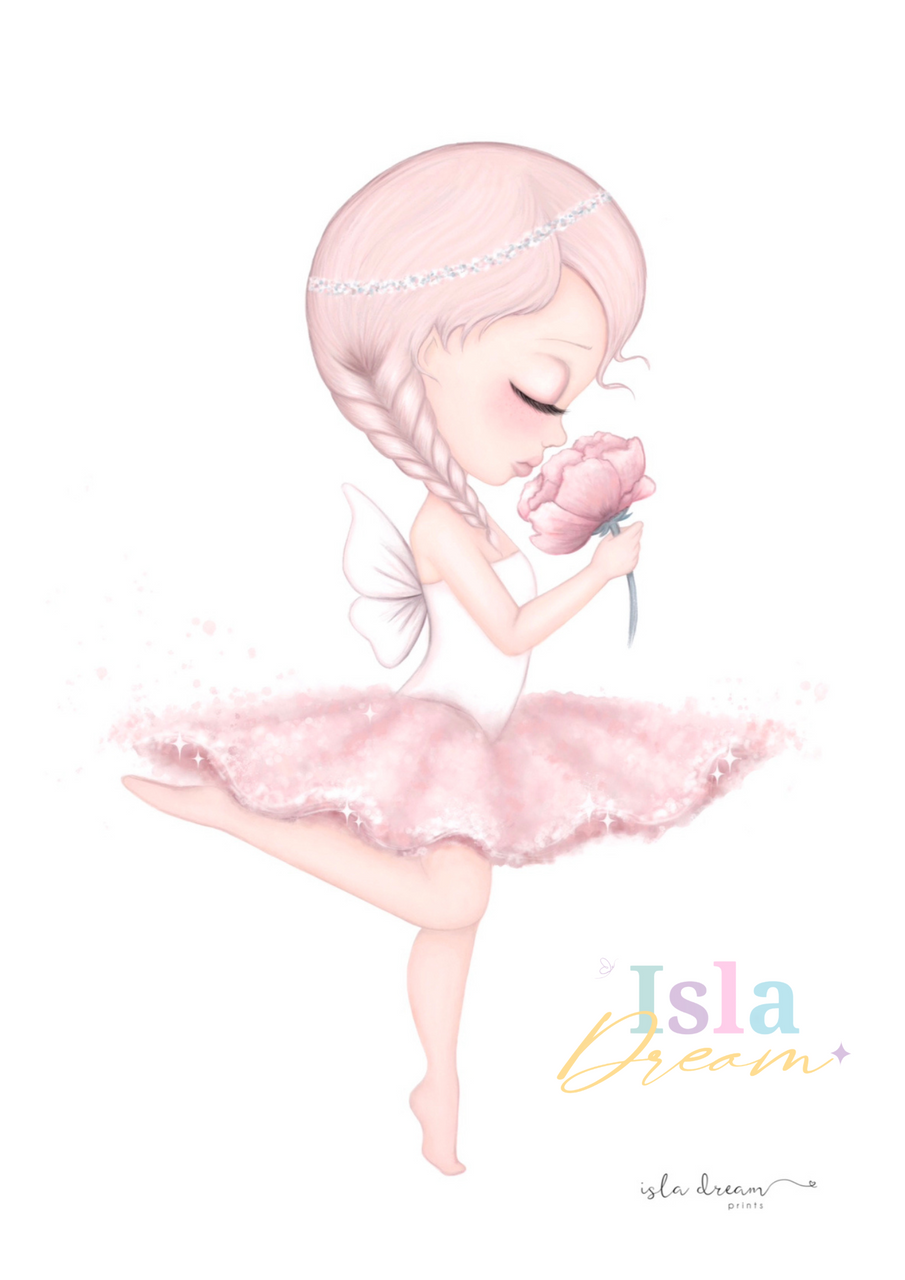 Meet Crysta! Our beautiful pink ballerina fairy! Now available with the option to personalise with your precious little loves name and birthdate- making this piece even more special! Simply select to personalise and leave your child's name and birthdate in the notes section at checkout!
 Introducing Crysta the ballerina
Deep in the enchanted forest, toadstool houses are made from glitter. Little fairies sparkle, and in the moonlight they flitter. Ballerina fairies practice their leaps and pirouettes on these toadstools all night long, whilst humming away to soft fairy songs. 
Hand-drawn with love by Australian artist Shannon Berg. You'll cherish the stunning quality of this magical piece of art. Choose your preferred size and paper and start creating a dreamlike bedroom for your little one today.
Note: Crysta the ballerina fairy is also available in-store as a removable fabric wall decal.
PRINTS NOW AVAILABLE WITH PERSONALISATION!
Features:
Exquisitely hand-drawn wall prints for children who deserve a soothing and beautiful place to sleep. Embrace their imagination and cherish the magic of childhood
Prints use world-class paper: a choice of standard matte or extra-luxe fine art paper (You'll love them both. The fine art paper is next level. You can read about the differences in the FAQs below)
Archival ink is used for all prints. This ink is specifically designed to maximise the lifespan of your artwork
All prints come in standard Australian sizes: A4, A3, A2 and some in 50cm x 70cm poster size. Ideal for all budgets and room sizes
Drawn with heart by Australian artist Shannon Berg. Thank you for supporting a small Australian business
Every enchanting character in the Isla Dream collection is original 
Your print is delivered in A-grade Isla Dream print tubes, rolled and wrapped with tissue paper. Ready for gifting
Details:     
$8 Flat rate post in Australia 
International delivery available
Afterpay available
Watermark is not displayed on purchased prints
Purchase does not include frames
Please note the colours may vary slightly from those shown on the screen.
FAQs:    
How long will it take to receive my order? Please allow up to five days for dispatch. Within Australia, allow 5-10 days for delivery. Overseas orders approximately 7 – 14 days. If your order is urgent, please let us know.
Who will deliver my order? We use Australia Post and all orders are tracked. You'll receive an email confirming your order and another with the tracking code once dispatched (Don't forget to check your spam folder).
What is the difference between the two paper options? 
Fine art: first-class quality. Made from plush 310gsm cotton rag, acid-free PH7 and pure natural fibres, it's thicker, roughly textured and luxurious to touch. The rich, crisp colours leap off the paper and look and feel like a watercolour painting. Our specialist fine art printer uses 8-12 colourants and create millions of colours. Framed and treated well, your wall print can be treasured forever with less risk of fading. Because we want your little one to have the best, the price difference as low as possible. Have a look. You may be surprised. 
Matte paper: our standard prints use high quality, elegant and vibrant 310gsm matte paper, smooth to the touch and cool white in appearance. 
What sizes are available? All Isla Dream prints come in standard Australian sizes: A4, A3, A2 and some in 50cm x 70cm poster size.
Where can I buy frames to fit my print?  In Australia, you can find frames to fit our prints in K-mart, Ikea, Country Road and Officeworks.
Check out our blog for some of our framing tips here.
Childhood comes but once! Don't miss the magic! - Isla Dream