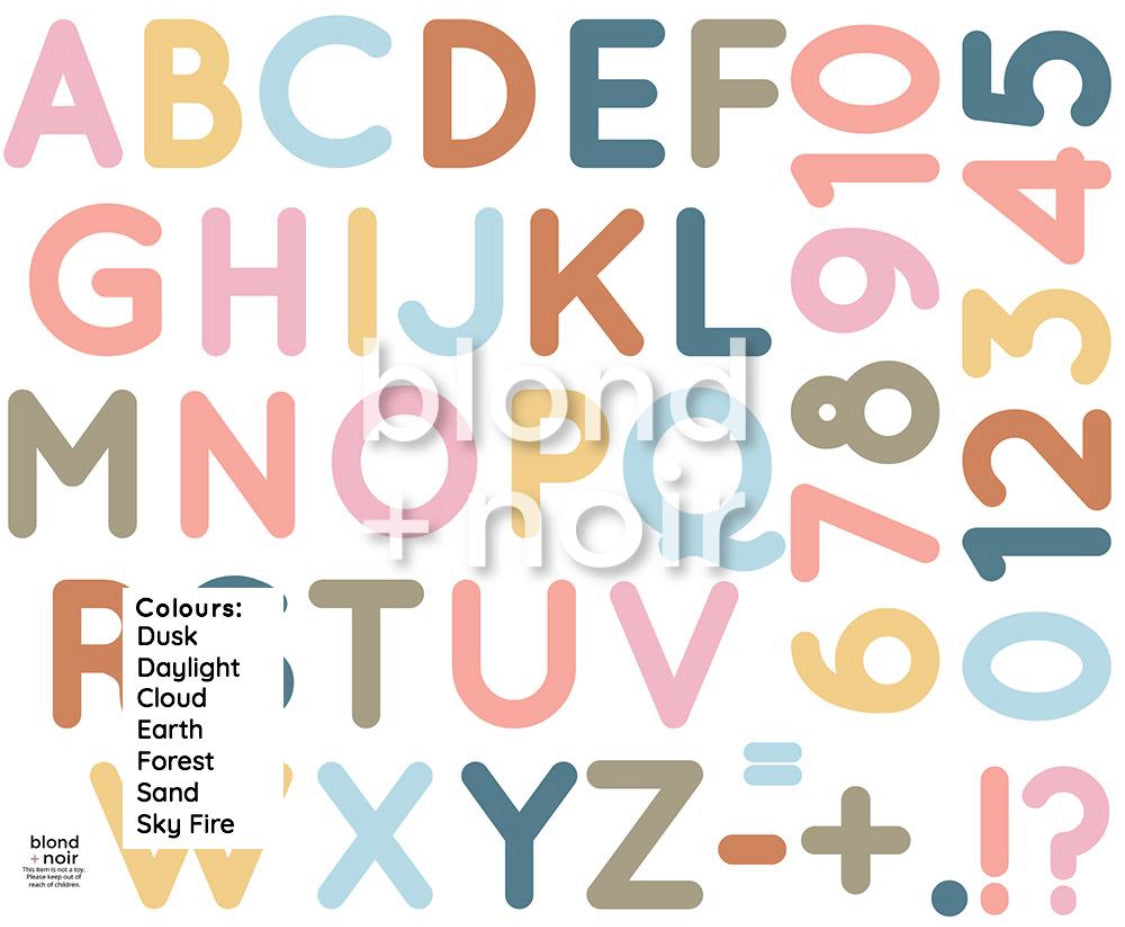 A colourful, fun range of alphabet wall decals to brighten your kids walls and make homeschooling in lockdown more fun! 
These 'Alphabet & Numbers' Wall Decals were designed to make your home schooling fun! The perfect space for kids to learn is one that ignites the senses AND theres no better way to do that then by adding amazing colour!
Our Home School series is simply FUN! Simple, stylish designs in great colour. The perfect way to kid-ify your living room, dining room or playroom - ready for iso home school! All with removable, storable and reusable wall decals - Meaning you can just pack it up when you're done!
All shapes are individual so you can move them to spell words or count. The colours are from our shape colour chart so you can also get shape decals to match!
Features:
Choose from Lowercase or Uppercase letters. Both come with numbers and are the same size pack.
Please note: if you require lowercase rather than uppercase- please leave this selection in the notes section at checkout or send us a quick message!
The Maxi Pack comes as a 60 x 70 cm sheet:
Including all alphabet letters (9 cm tall), 0-10 and some special characters!
Total 43 individual shapes
The Midi Pack comes as a 30 x 35 cm sheet: 
Including all alphabet letters (4.5 cm tall), 0-10 and some special characters!
Total 43 individual shapes
 Media:
We bring you the kindest removable fabric wall decals & wallpaper on the market! 
Made from the highly trusted removable fabric that is - PhotoTex. 
"PhotoTex is the original peel and stick, polyester fabric, adhesive material that can be installed on virtually any flat surface (indoor and out) and then removed and reused many times over leaving no adhesive residue.

Used for numerous applications PhotoTex does not weaken or strengthen over time, can withstand all weather conditions, and it will not shrink or curl like other material. PhotoTex won't rip or wrinkle and can be pulled apart if it folds over during installation. PhotoTex material is US patented and non-toxic."
Our decals & wallpaper are made on premium Opaque PhotoTex fabric so that you can use them on coloured walls and easily overlap without anything that's underneath showing through. Our decals are also precision cut on a premium grade commercial machine, leaving them completely borderless.
PhotoTex is the number one trusted and truly removable fabric wall media on the market. If your wall art isn't on PhotoTex, well, its not on PhotoTex!
Details:      
Free delivery within Australia for all orders over $40
International delivery available
Afterpay available
Please note the colours may vary slightly from those shown on the screen.