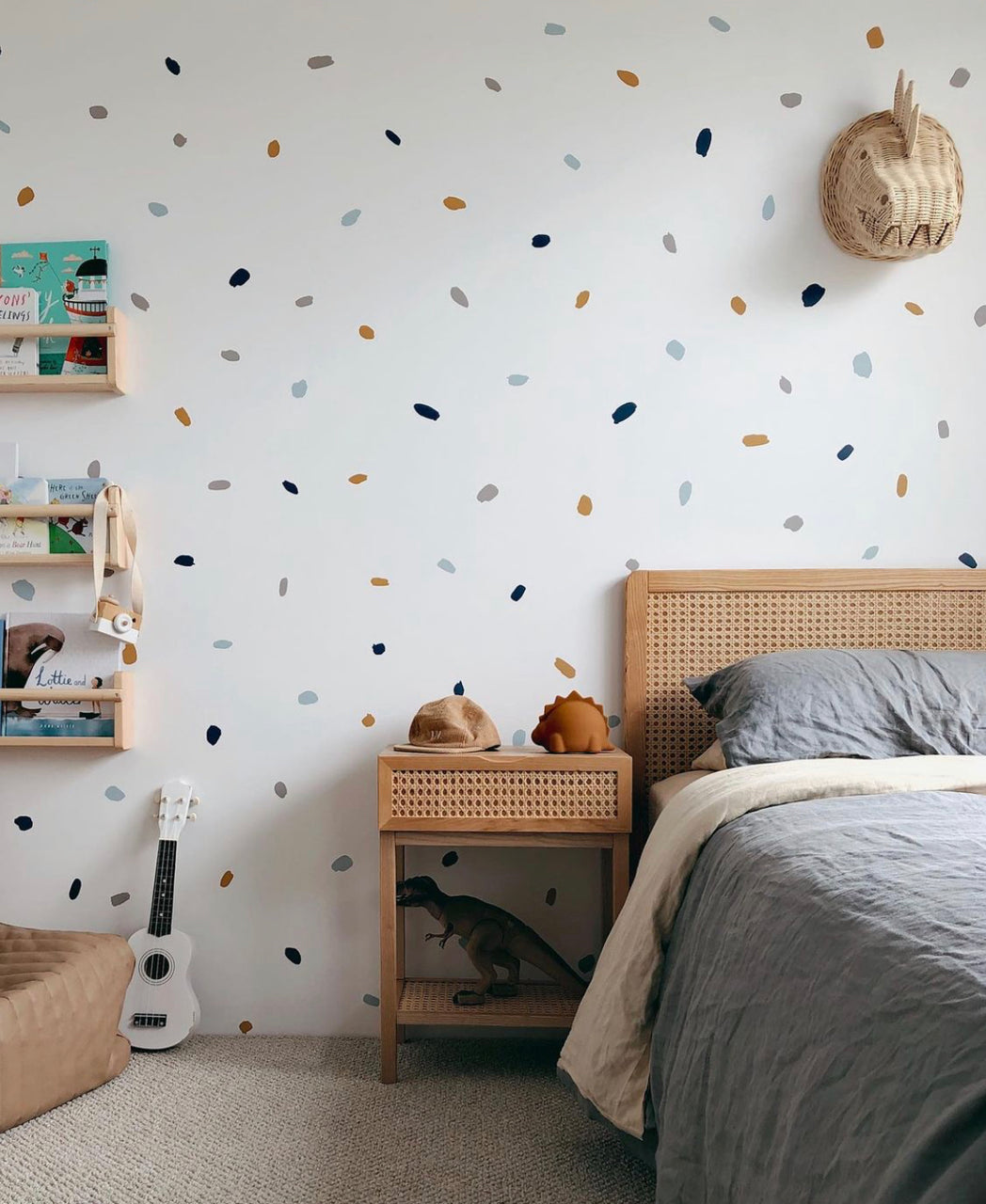 These shapes decals have been designed to add a supporting design element to an already amazing room design! They will bring colour and depth but still allow your statement pieces to shine!
Price:
A4 Pack: $49- includes 2x A4 sheets
A3 Pack: $89- includes 2x A3 sheets 
Product description:
These 'Animal Spot' decals are the perfect addition to a modern space. They can be used to add a splash of colour or you can get multiple packs for a more concentrated or full wall coverage. They come in a range of colours so you can choose grown up, design conscious or playful. Whatever suits the space they will be in!
The A4 Pack comes as 2 x A4 sheets:
Including 170 irregular spots measuring between 1.5 & 4 cm
Total Shapes 170
The A3 Pack comes as 2 x A3 sheets:
Including 170 irregular spots measuring between 2.5 & 5.5 cm
Total Shapes 170
Available colours:
Please view our colour chart for full colour selections available. Colours can be selected individually from any of the families listed (up to 10 colours)! In fact, we challenge you to find amazing new colour combinations for your space to make it that perfect fit for you. The colours you choose will be made in as close to even numbers as possible unless requested otherwise. Each set of shape decals is custom made to your exact colour specificatioin!
Please keep in mind that not all screens are created equal so the colour you see on your screen, may vary slightly from the final printed product.
Please include your colour selections in the notes to create your custom decals! Feel free to email us if you have any questions.
Please note: Our decals adhere to most clean, smooth surfaces. There may be some surfaces and paints that reject low-tack decals. If you are unsure if our decals will work in your space, we suggest ordering a sample pack to test on your surface, prior to purchasing a larger decal pack.
We bring you the kindest removable fabric wall decals on the market! Our decals are made from high quality blockout fabric and are borderless. We lovingly hand make every piece from our studio on the Gold Coast, Australia.
Our Fabric Decals use a unique low-tack glue technology that leaves no sticky residue on 99% of surfaces & won't set on your walls over time! You can use them on virtually any smooth, flat surface (inside & out)! They can be applied, removed and reused many times over! They won't tear or crease and if the glue side is accidentally scrunched up it can simply be pulled apart with no damage to the decal.
To get the best from your decals, its important to fully read your 'Decal Information and Care Sheet' provided with your decals before use.