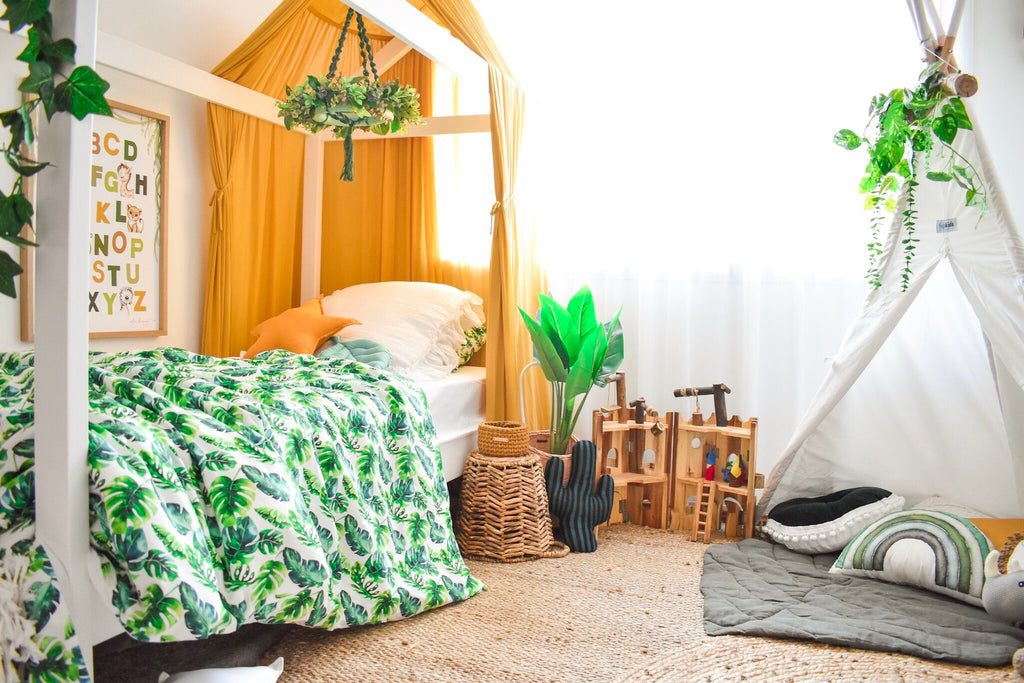 Transform your child's bedroom into a safari wonderland! 
It's no secret, we love pink around here. But after seeing so many earthy neutral tones in rooms on the gram, I found myself being pulled into and craving the neutral colour palette in play rooms, nurseries and bedrooms. Fast forward countless hours, days, weeks… our new safari animals Zeus, Theodore, Gerald and Abu were born. And oh boy, you guys loved them from day one!  
Once they had been released, my mind began running as fast as a Cheetah (corny much) on how I could show you the vision I had in my mind when I was drawing them. The room that I saw them living in. And that's when the second part of project safari commenced.
All great rooms start with a mood board. So I started looking around at brands I knew and loved on Instagram to see what products were available to fit within my chosen theme. I wanted the colour palette to perfectly compliment our prints. Browns and mustards were an obvious starting point, but ensuring the palette had diversity and depth was also important, and the reason rich greens were introduced.
TIP: When planning your room, whether in your mind or using a mood board, one of the best things I've learnt along the way is that your colours don't need to match perfectly all the time. It's the tones that matter. Concentrate on pairing your tones together. Pay attention to the warmth or coolness of the colours. When diversity but cohesion is created in your colour shades, this is what ties a room together.

 It's incredible how quickly a new room can come together once you've nailed your 'wow factor' key elements. For this space, I wanted to incorporate our existing hideaway house bed from Hide & Seek Kids and white teepee from Hip Kids. Additional 'stand out' items include the sheer canopy in mustard yellow from Tutu Irresistible Boutique, the giraffe head from Animal Head Emporium, and the tropical jungle doona set from Sonny and Evie Nursery Linen. Each was a bold piece in it's own right, but perfect companions for our safari friends!
Next come layering the smaller decor elements.
In our safari bedroom I used a combination of cute toys, greenery, cushions, and decals to form the layers of colour, texture, pattern and height.
The smaller items you add into a space, are what create the balance and unity of all your elements, which in turn brings harmony to your theme and colour palette. 
During this process, I connected with kids stylist and photographer, Brooke from @thehhouse_. She helped me decide on items when I couldn't make up my mind, come over  for a cute styling date and captured these incredibly beautiful photographs for us! 
It's always helpful to ask a friend for advice when planning a room for a while, as getting a fresh perspective to bounce ideas off can really facilitate a bunch of new inspiration. 


Bringing this space to life was so satisfying for me. Zeus, Theodore, Gerald and Abu are firm favourites in my eyes and in your shopping carts (for which I am from the bottom of my heart grateful). 
In the words of my sweet Isla, "the elephant has cute ears and the monkey has a cute tail".
My hope is that this space inspires you to create your own safari space in your home with our safari friends with all their cute ears and tails.
And should something have caught your eye in our magical jungle masterpiece - Here are all the details needed for you to shop the look for yourself: 
You are welcome! 
x
Jungle room product list 
Jute rugs, basket, plants & frames - KMART - https://www.kmart.com.au/ 
House bed - Hide & Seek Kids - https://www.hideandseekkids.com.au  
Tropical doona cover- Sonny & Evie nursery linen- https://sonnyandevielinen.com.au/  
Ruffle pillow case- Ivy & Aida  
https://ivy-and-aida.myshopify.com 
Mustard canopy- Tutu Irresistible boutique- https://tutuirresistibleboutique.com.au/  
Jungle prints & Alphabet posters- Isla Dream https://isladreamprints.com/  
Leaf play mat- Tila interiors https://tilainteriors.com.au 
Cactus cushion- Baby Donkie https://babydonkie.com.au 
Mustard crochet basket- Two little bambino's https://twolittlebambinos.com/ 
Giraffe head- Animal head emporium https://mycousinsroom.shop/collections/animal-head-emporium 
Teepee- Hip kids - please note we painted the top white as we own their pink one 🙊 https://www.hipkids.com.au/ 
Wooden tree house toy- QT toys https://www.qtoys.com.au/ 
Wooden name plaque- Home & Willow https://homeandwillow.com.au/ 
Jungle Leaf cushion- Peppermint tree creations https://www.pepperminttreecreations.com.au/ Star cushion- Miss Angel Ilaria http://www.missangelilaria.com/ 
Rainbow plaque- Ava & Harper https://avaandharperco.com/ 
'Born to be wild' decals- Blond + Noir https://thezeroprint.com/ 
Emerald green cushion- My little joy https://mylittlejoy.com.au/ 
Leafy mobile- Once upon a flower https://onceuponaflower.com.au/ 
Stuffed Rhino- Oliver & Thomas https://www.oliverthomas.com.au/ 
3D Dragonfly wall decals- Little custom creations-  
https://littlecustomcreations.com.au   
Isla's dress- From Zion- https://www.fromzion.com/ 
Leopard bow- Fox & Baby Co - https://www.foxbabyandco.com.au/